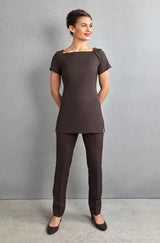 Calvi Tunic
SKU: L24SOFTPLM16
£43
£21.50 Exc. VAT £25.80 Inc. VAT
With its structured shoulders and contrasting back zip fastening, our Calvi beauty tunic is a stand out piece for any salon uniform. Comes with added pockets for a practical yet beautiful finish.
Available in a choice of 2 discontinued colours at a discounted rate while stocks last.
Key Features
Pockets
Contrasting back zip fastening in gold

Square neckline and structured shoulders

Available in a choice of 2 colours

Made from easy care, non-iron, breathable softex fabric

Garment length is 27 inches.

Model wears a UK size 10.

This style is true to size.

Deliveries

within the UK are now FREE on orders over £120.00. Orders under £120.00 will be charged a £5.42 net flat rate.

In stock UK orders will usually be delivered within 2 working days.
We are usually able to dispatch embroidered clothing within one week.
A next day delivery service is available at a cost of £12.50 on your order (Next day can only be taken over the phone and before 12.00 GMT).
Deliveries to Guernsey and Jersey will be charged a £40.00 flat rate.
Deliveries within the EU will be charged a £40.00 flat rate.
In stock EU orders will usually be delivered within 5 working days.
International shipping costs are calculated automatically at the checkout.
All Florence Roby garments are made with a superior quality fabric that is designed for regular use, i.e. washing and wearing every day. However, care must still be taken in order to get the maximum life from your garment.
Top Tips
Make sure to follow the wash instructions on the garment's label.
Fasten any zippers, studs or buttons before washing to prevent snags.
Avoid tumble drying as this can greatly shorten the lifespan of your uniform.
If you want to iron your garment, please iron inside out on a low temperature.
We recommend washing your uniform on a low temperature on its own. 
Avoid mixing dark colours with light colours in the wash.
If you're using chemicals, bleaches, dyes or waxes, always wear a protective apron to avoid stains.